Wireless - Kein Verbindungsaufbau - no connection ALL0256N
Posted by Gert Weigand on 30 September 2013 11:06
Sollte sich keine Verbindung zwischen zwei ALL0256N aufbauen, überprüfen Sie bitte die auf dem Gerät installierte Firmware.
Diese sehen Sie in der schwarzen Leiste "oben links".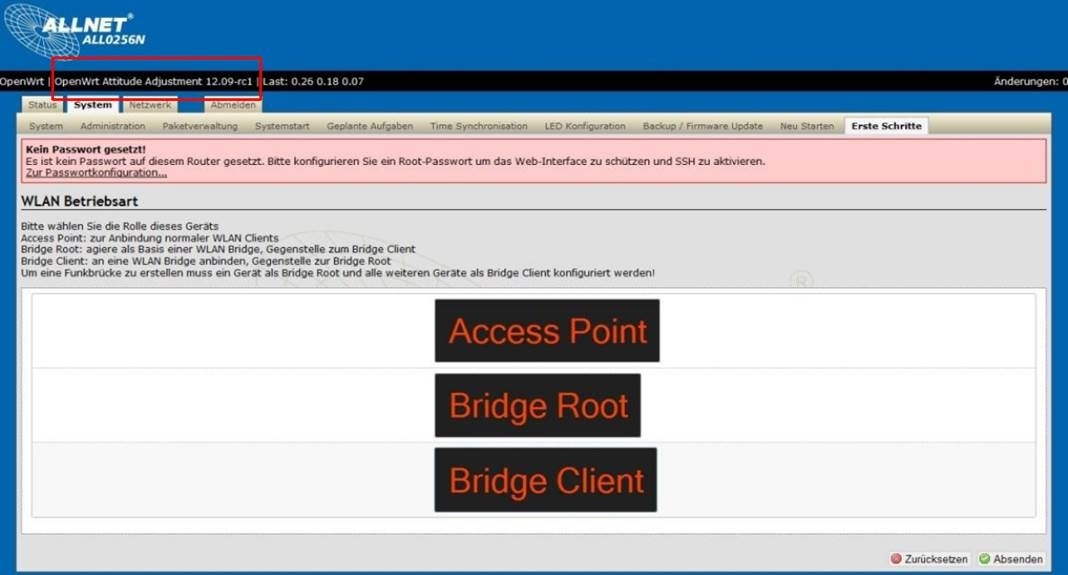 Die aktuelle Firmware ist 12.09-rc1. Sollte eine andere Firmware angezeigt werden muss das Gerät auf die aktuelle Firmware aktualisiert werden!
Fordern Sie diese Firmware bitte unter support@allnet.de an.
Bitte prüfen Sie vorab ob Ihr Gerät 4MB oder 8MB Flashspeicher aufweist. Wählen Sie anschließend zwischen beiden im Paket enthaltenen Firmwares die passende zum Upload aus.
Führen Sie nach dem Update zusätzlich einen Reset durch.
Um nach dem Firmware-Update eine Verbindung zwischen beiden Geräten aufzubauen, gehen Sie bitte nach der Anleitung für Firmware 12.09-rc1 vor: ANLEITUNG
---
If there is no connection between two ALL0256N build, please check the firmware installed on the device.

This is shown in the black bar "top left".

The current firmware is 12.09-rc1. If a different firmware are displayed, the device must be updated to the latest firmware!
Contact us for the latest firmware: support@allnet.de
Please check in advance whether your device 4MB or 8MB Flash memory has. Then choose between two firmwares contained in the appropriate package for the upload.


To establish a connection between both devices after the firmware update, please proceed according to the instructions for firmware 12:09-rc1: C L I C K H E R E


---